What to Wear When You're You
When you wear what you want, you feel better about yourself. It's like an extra boost of self-confidence on a day when you are feeling less than yourself. In casual situations, you may find yourself feeling less stressed and more approachable when you feel comfortable in your clothes. It shows that you are free-spirited and secure in yourself. So, what's a carefree person like yourself supposed to wear?
This isn't about fitting inside a box. It's about reaching maximum potential to reach your goal. Are you revved up about your interview? Worried you'll buy the wrong scrubs for tomorrow's job? Planning on attending a legislative event? Do you crave to meet influential people up close and personal? Or are you pining away for that elusive 15-seconds-of -fame selfie at a cannabis cup?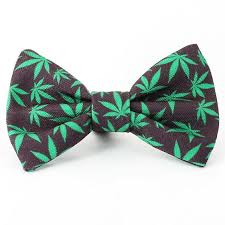 Yesterday a co-worker asked me if a marijuana bowtie would be appropriate wear to an upcoming legislative meeting at the Capitol with the AMMA, and I felt bad for saying no. Two weeks ago I would have said "GO FOR IT, GIRL. Do you!" As the newly appointed communications director of Arizona NORML, I have made a promise to relay the director 's words. "Tell everyone that we need them there. They need to dress well." I don't disagree with his message, and after receiving AMMA's invite, I see that this is a serious opportunity to make an impression with important people who make decisions about our lives.
Working in the cannabis industry has taught me that eyes are always on you. Impressions are made based on appearances. The beautiful thing about freedom is people control their clothing choices, but they cannot control the consequences of how others feel about those choices. Everyone always has an opinion of their own. And if you're trying to get stuff done in a movement, it makes sense to want to stand out to get your voice heard.
Just before I entered the Arizona cannabis industry, I was invited to attend the dispensary's holiday party at a sushi restaurant. I had been waiting for my dispensary agent card to arrive in the mail for weeks, and this was my first time meeting with everyone. I didn't have a whole lot of money at the time because I had been out of work so long. I was feeling pretty confident in the same V-neck shirt and neutral skirt I had been wearing on TV shows in Hollywood 2 years prior– maybe it was the cocktail given that had me feeling relaxed. Either way. I felt confident and had forgotten about my ragged clothes. More importantly, my husband and I tried sushi and I now know I am not a fan.
One of the great things about working behind the computer is getting to wear what you want. Unfortunately, sometimes what you want to wear may not coincide with what you need. I suffer from a terrible debilitating disease called endometriosis. My uterus, my fallopian tubes, and part of my abdomen were taken through a series of surgeries. Several years before working in the cannabis industry, I worked as a pet trainer at a big box retailer. One of the reasons I couldn't do that job anymore was because I couldn't physically wear pants anymore. Dumbass corporate shenanigans, but hey, I'm not bitter… I've been in pain most of my life, but the last few years have been the worst. I usually only wear dresses because the band from pants causes too much pain.
Endometriosis can cause debilitating spasms in the back and pelvis, painful sex, mood swings, persistent ache in the pelvic area, infertility and other symptoms. The symptoms can range from mild to severe. Visit the Endometriosis Association for more information.
At Staff MMJ, we look for job seekers who are passionate, coachable and flexible. Sometimes it is difficult to find all of those qualities. The true pioneers of the plant have been oppressed and under control, and we're all mad about it. The patients need better access to this healing plant. I don't really care what you wear, but at the same time, make a good impression for all of us, will ya?