Drop off a resume at either Mesa or Phoenix locations.
Sunflower Meds Phoenix
 10827 S 51st St, # 104
Phoenix, Arizona, AZ 85044
–and–
Sunflower Meds Mesa
5205 E University Dr,
Mesa, Arizona 85205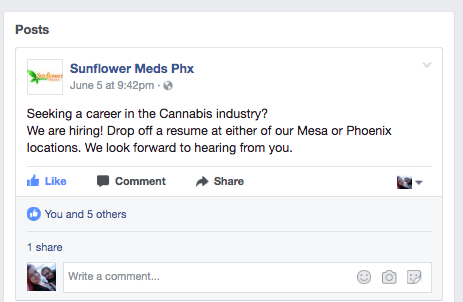 ---
Insider Tips from Staff MMJ
-Follow the directions in the job posting. This company asks for a hard copy resume to be hand-delivered.
-This is a courtesy posting. Do not apply to this post directly.
-Research the company you are applying to. Click on their link and determine if this is the right match for you.
-Observe the operational hours and be courteous of the company's traffic flow before visiting.
-Double-check your resume one last time for typos.
-Verify your contact information is correct and up-to-date.
Need some help with your resume? Contact Staff MMJ for tips on getting your resume ready for a cannabis career!